These are NOT kites
Windsocks are decorative shapes designed to hang on a verandah, patio, tree or pole and just, well 'hang around' and blow in the breeze.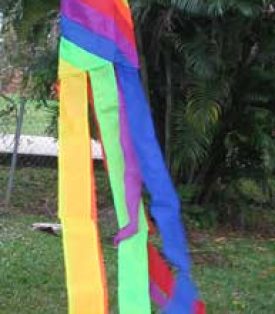 A decorative windsock that just hangs around n' flutters in the breeze.
1.5 metres long
High quality Ripstop nylon sail
Beautifully presented – a great gift
$15.00
The Super Spiral is a Spinner…as the wind blows through, it spins like a screw in the breeze.
Extends to 1.8m length
Strong snap swivel spinner at top
$15.00